The Freelance Writing Blog's Review of The Super Affiliate Handbook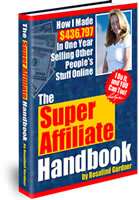 Known as the 'bible' of Affiliate Marketing, Rosalind Gardner's Super Affiliate Handbook is a MUST-READ for anyone who wants to become an affiliate marketer.
In a style that is friendly and humorous, the Super Affiliate Handbook is peppered with real examples of what Rosalind did to become one of the most recognizable Super Affiliates in the world. And she doesn't just tell you what she did right — she exposes the mistakes she made as well — to help you avoid potential problems.
Exceptionally well written, Super Affiliate Handbook covers absolutely everything you need to know about making money as an affiliate marketer.
I HIGHLY Recommended it.
Get the Super Affiliate Handbook today!
The Freelance Writing Blog's Review of How to Make a Living with Your Writing by Joanna Penn
MY

REVIEW OF JOANNA PENN'S BOOK:
I bought this book myself and read it in one sitting. After that I bought the audio book and listened to it again. It was so worth it!
This book shows you how you can make a living from your writing. I felt an affinity with Joanna as I also came from a full time very demanding job which did nothing for my spirit or my creativity.
Joanna mentions that she spent 13 years working as a cubicle slave in the corporate world and that she was miserable in her job as her creativity was stunted by the crushing daily grind. Wow! I thought this sounded exactly like me. I couldn't put the book down.
She mentions that she is not a Kindle or blogging millionaire but that she will share with you how she made a multi-six-figure income from writing books, blogging and marketing in an ethical manner. I agree with her that the current digital age we are living in, is the best time ever to attempt to make a living from your writing.
It is after reading her book that I started the Freelance Writing Blog and ever so often I go back to her book and her website to refresh my thinking and planning.
ANYBODY READING THIS BOOK WILL NOT BE SORRY!
Summary
Reviewer
The Freelance Writing Blog
Review Date
Reviewed Item
The Super Affiliate Handbook and How to Make a Living from your Writing
Author Rating